MISSION ACCOMPLISHED!
For the United States Air Force, Atomic Irrigation (under contract to Parsons Engineering) delivers Fort MacArthur Parade Grounds Irrigation Design.
The Fort MacArthur Air Force Base parade grounds, located in San Pedro, California had been wasting irrigation water for many years due to a poorly designed irrigation system. In order to keep the grounds "looking green" the maintenance personnel were over watering areas that were curently getting poor coverage.
"When walked on, the grounds were saturated with water and ponding was commen."Ft Mac Project manager"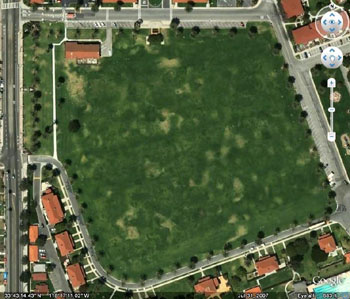 Project scope included a new irrigation system design using the latest in technology. Project requirements dictated that the new system design automatically adjust for changing weather and soil conditions. Furthermore, the Air Force was looking to save money on water usage, protect existing landscape and hardscape investments, increase efficiency through automation, achieve sustainable water management and realize a rapid ROI.
Atomic Irrigation designed and delivered an irrigation system that achieves these requirements on time.
Whether you need to irrigate a commercial shopping center, municipal building, sports field, parking lot, private residence or an Air Force Base, Atomic Irrigation can help. We're up to speed on all the latest in technology from low-water spray heads, drip irrigation products and the latest ET Controllers.
Atomic Irrigation
1158 26th St., #241
Santa Monica, CA 90403
310.592.4707